---
CS 66-460
Introduction to Graphical Human Machine Interfaces

The Parapsychology of Everyday Things

WEDNESDAY, JANUARY 22, 1997

Instructor: G. Bowden Wise
Rensselaer Polytechnic Institute
Spring 1997
---
We use a variety of devices, instruments, computer programs, etc., everyday.
Some are easy to use others are difficult and frustrating to use.
Why are they frustrating?
Due to poor design:

they provide no clues or false clues to their operation
they trap the user
they thwart the normal process of interpretation and understanding

Poor Design leads to Frustration leads to Confusion leads to Error
On the other hand, well-designed objects, are

easy to understand
easy to interpret
use visible cues to their operation
---
Digital watches

lots of features, few controls

Telephone Systems

how do I HOLD, TRANSFER, PICK-UP, PARK, etc...

Doors

why are some doors easier to use than others?

VCRs

how many of you let your VCR clock flash 12:00?
are there some features you never use?

Household Appliances

have many features, and controls
have complicated, or useless, instruction manuals
users memorize just a few, important functions
hard for casual users (e.g., microwave)

Voice mail systems

seemingly endless sequence of menus to go through to get to the desired function
---
We encounter many everyday objects.
How do we cope?
How do we use an object?

how the mind works
the psychology of human thought and cognition
information in the object
the psychology of everyday things
the object is usable
the object is designed well
---
We can
understand the psychology of everyday things

make use of affordances
watch out for causality
make use of constraints

learn some principles of good design

provide a good conceptual model
make things visible
use a good mapping, a natural one if possible
provide feedback
keep the number of features/actions and the number of controls balanced
---
Affordances refer to the perceived and actual properties of an object, which help the user determine how to use or interact with it
When affordances are used, the user knows what to do just by looking at it
Complex things might require some explanation, but simple things do not.
Examples of good affordances:

plates (on doors): push
knobs: turn
slots: insert
buttons: pushing
chairs: for sitting
glass: break (!)
wood: write on, paint

Others?
---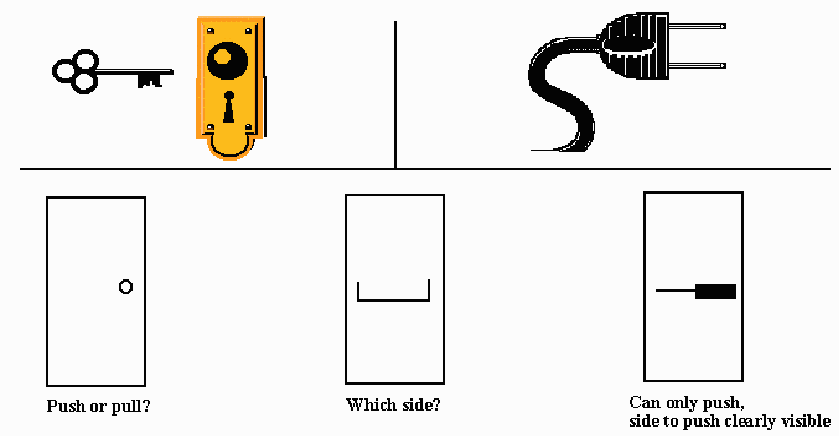 ---
When something happens immediately after an action, there is a sense of causality: the happening is caused by the action
Usually just coincidence.
Two kinds of false coincidences:

Incorrect effects

This type of coincidence is common in computer systems where the user is running several applications. e.g., running a new application leads to a system crash

Results in ``superstitious'' behaviors

Invisible effects

An action/command with no apparent result are often repeated many times, but may actually be happening (!) e.g., repeating mouse strokes when the system is unresponsive
---
Constraints restrict the allowed behavior or interaction with an object.
Physical constraints

The physical properties of an object constrain the possible operations:

the order in which parts can go together
the ways in which an object can be picked up, moved, manipulated
examples: scissors, doors, drawers, zippers, etc.

Cultural constraints

Constraints which have evolved through artificial conventions that govern acceptable social behavior. These cultural conventions, of course, have to be learned, but once learned apply to a wide variety of circumstances.

tighten screws by turning clockwise
loosen screws by turning counter-clockwise
desktop metaphor used in GUIs
---
Conceptual models are mental models, models that people have of themselves, others, the environment, and the things with which they interact.
People form mental models

from experience
from training and instruction

The mental model of a device is formed by the interpretation of its perceived actions and its visible structure.
Upon seeing an object or a device, the user form a mental model of how the device or object operates. Users use the model to simulate the operation of a device or object.
A good conceptual model allows users

to predict the effect of their actions
to understand the relationship between the controls of a device and the outcome

A poor conceptual model

forces users to operate by rote, blindly
makes it difficult to determine the effects of actions
makes it difficult to figure out what to do in novel situations
---
How would you use these objects?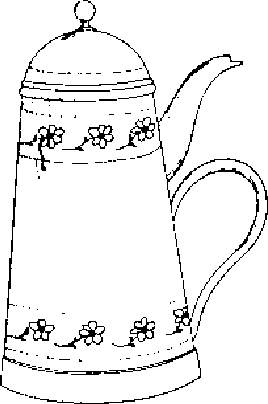 ---
Three kinds of models: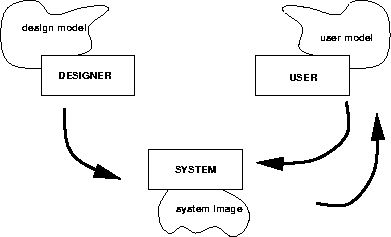 DESIGN MODEL
The designer's conceptual model
SYSTEM IMAGE
The visible structure of an object. Results from the physical structure that has been built, including, documentation, instruction, and labels
USER MODEL
The model the user develops through interaction with the system
Note that the designer would like

DESIGN MODEL = USER MODEL

But the user never sees the designer's model, only the SYSTEM IMAGE.
---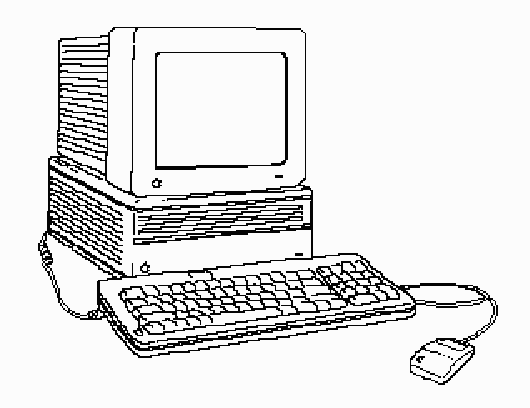 Computers are much more complex than physical objects.
As a general purpose machine, a computer does not have a conceptual model.
Computers are used for many different purposes and run many different applications. No one conceptual model is possible.
Designers must come up with a good underlying model that helps the user understand how to use the system.
---
Often designers employ metaphors to help the user form a suitable mental model.
Metaphors can be used to develop interfaces for applications:

APPLICATION AREA          METAPHOR                  FAMILIAR KNOWLEDGE
======================    =======================   =========================
Operating systems         The desktop               Office tasks

Spreadsheets              Ledger sheet              Columnar tables

Object-oriented           Physical world            Real-world behavior
  environments

Hypertext                 Note cards                Flexible organization
                                                    of structured text

Learning environments     Travel                    Tours, guides, navigation

File storage              Piles                     Categorizing  objects in
                                                     in terms of  urgency,
                                                     projects, etc

Multimedia environments   Rooms (each associated    Spatial structure
                           with a different          of buildings
                           medium/task)

Computer supported        Multi-agents              Travel agents, butlers,
  cooperative work                                   and other serving roles

Metaphor can also be applied through analogy even if the metaphor is not concrete in the user interface. (e.g., use a word processor like a typewriter)
---
Visibility is an important principle of design and is used to:

to make the operation of a device understandable
act as a reminder of what can (and cannot) be done

Visibility is achieved by

making the correct parts or controls visible
conveying the correct message

When the number of possible actions exceeds the number of controls, some functions become invisible, resulting in complexity.
Good visibility leads to objects/devices

easier to understand
easier to use
quick to learn
easier to remember

How to make things visible?

employ natural signals
use good mappings
good placement of controls
---
A mapping is the relationship between two things. Many meanings.

e.g., mathematical definition
e.g., the relationship between the controls and intended function

The easier a mapping is to learn and remember, the easier a device will be to use.
Use natural mappings where possible.
Natural mappings take advantage of physical analogies and cultural standards.
Natural mappings come from

spatial analogy:
press up button to make elevator go up
perception:
louder means greater

Some relationships do not have a natural relationship

e.g., pitch/hue/taste
does higher pitch mean more or less of something?

A device is easy to use when there is visibility to the set of possible actions actions, where the controls and displays exploit natural mappings.
---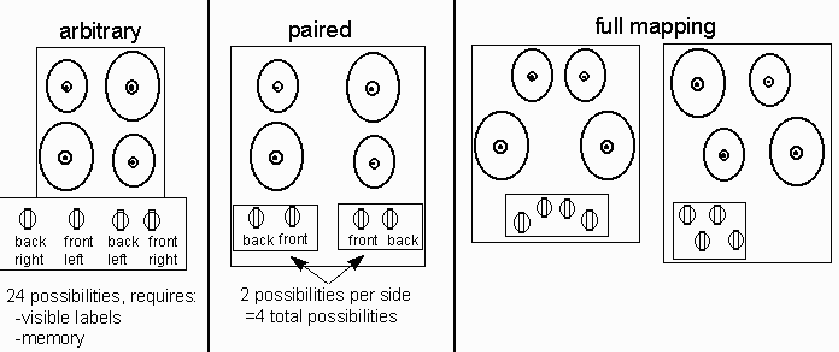 ---
Feedback is the act of sending information back to the user about what has actually happened as the result of his actions or about the state of the system.
Well known concept in the science of control and information theory.
Good example:

simple push-button phones

Bad example:

complicated, multi-feature, modern telephones
Why? As number of features increase, the use of feedback diminished

Feedback can be presented visually or aurally.
It may cost more to develop a complex phone with good feedback, but the trade-off is increase in usability.
---
Today's devices and computer systems are commonly developed with many, many, features.
However, increase in controls/features, makes it more difficult

to make all the controls visible

which makes it harder for the user to

understand the device
learn how to use it
memorize functions

Keep the number of features/actions and the number of controls balanced
---
Designing well is not easy
There are different perspectives on what makes a good design:

manufacturer:
control costs, economical to produce
seller:
attractive product that customers will buy
consumer:
features, price, appearance
repair technician:
easy to diagnose, maintain, upgrade

The designer must juggle all of these perspectives into a single product.
Good design requires that the designer think about

how people will use the device
how people will abuse the device
the kinds of errors people will make
and the tasks and functions people will wish to perform
---
---
We can become better designers by

understanding the psychology of everyday things

make use of affordances
watch out for causality
make use of constraints

learning principles of good design

provide a good conceptual model
make things visible
use a good mapping, a natural one if possible
provide feedback
keep the number of features/actions and the number of controls balanced

Don't let the paradox of technology be an excuse for poor design!
More easily said than done. Good design takes careful thought, planning, and hard work.
---
Bowden Wise
Wed Jan 22 11:03:18 EST 1997