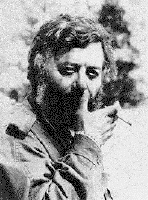 Ozdemir Ince (1936 - )
---
---
Siirleri:
CAN YELEKLERI TAVANDADIR'dan," Karada, denizde ve havada, kutlu olsun, / yesil gozlerde, hokka agizda, tas memelerde;"

DORT DUVAR ARASINDA," Bir seyler kapaniyordu bir yerlerde, / belki bir kapi, belki bir mezar -"

SANDIKLI PAZARINDAKI CINGENE KADIN," Birden animsadin bunca yil sonra / o gordugun badem gozlu / cingene kadini"

SUBAT AYINDA ANKARA'DA YAZILAN BIR SIIR," Bu yil erken bastirdi kis! / Yagmur yagiyor, yagmur yagdikca seviyorum seni."
His poems in English
BIRD'S EYE VIEW," What does the heart of the bird that can't fly say: / a rage, a tipsiness in space, / a mountain's voice, a line of death?"

POET'S NONALIGNMENT," The poet is neutral vis-`a-vis objects, / a scent of the sea remains in his nails,"
---
Turkish Poetry Page
---
Last updated Nov 13, 1995