Software Developed by RCOS supported Students used elsewhere and Local and Worldwide Competitions won by RCOS supported students


Caveat: (c) YYYY all rights reserved - Some of the images in this page have their own licenses- Please respect that.

---


Poly has published (on December 12/8/2010) a very nice article on RPISEC during their CTF competition. Many members of RPISEC are also members of RCOS. There has been a lot of co-operation between RPISEC and RCOS - pooling the resources to achieve greater things. Ryan G, John McM, Alex Rad are mentioned by name in that article.

---




---


Poly had published a nice article on RCOS on November 10, 2010. That article may be found here

---


In Capture the FlagCompetition in Cyber Security Awareness Week at NY Poly Nov. 2010 RPISEC (with team members Ryan Govostes, Adam Comella, Jeremy Pope, and Shawn Denbow) came third behind two teams from CMU. Ryan Govostes had been associated with RCOS. Congratulations to

Ryan. Adam, Jeremy and Shawn of the RPISEC team.

---


Ease started as a summer 2009 rcos project by Nate Stedman and currently devloped by Nate and Rob got an excellent review here . Their opening statement is "Better yet it (ease) has a very neat, animated cluttter-based interface that makes OpenOffice.Org Impress look so Windows 95 in comparison". Wow - That is an accomplishment! Congratulations to

Nate Stedman, Rob Carr

---


CERN uses Cinserto for their digital signage displays. Please see ConcertoScreens. Congratulations to

Brain Zaik and the WTG team at RPI

---


Tim Horton, Matt Arsenault, Nate Stedman attended Gnome summitt in Boston on 6 and 7th of November. Topics of discussion included Ease Nate and Rob's presentation software. Blog about the Summit Congratulations to

Tim, Nate and Matt

---


In the recent Honors convocation at RPI, the following RCOS people were honered. Luke Perkins, Evan Patton, Allen Lavoie, David Doria, Nate Stedman, Congratulations to

Luke, Evan, Allen, Dave and Nate

---


For the spring Semester 2011, RPI is opening Evan Patton and group's ROCS, rensselaer Online COurse Scheduler for all students at RPI. From a lightning talk at the recent Jasig conference by Arlen Johnson on ROCS was received enthusiastically by other universities. Course Scheduler is the offcial web site. Thanks to dotCIO's office (Arlen Johnson in particular), Registrar's office (Sharon Kunkel and Mike Conroy) were extremely co-operative. COngratulations to

Evan Patton and UPE Group

for propsoing this as a RCOS project

---


Devin Ross RCOS alumni was interviewed by David Appleyard of Envato for the recently published ebook iPhone App Entrepreneur. His entire interview may be found in here . Congratulations to

Devin Ross

---


Alex, Joe, Peter in Times Union Paper - photographed during Mundie's(Microsoft) Talk

---


Luke Perkins is a senior in Computer Science who did an open source project with RCOS (during Summer 2010) to create mimicbot to play starcraft game. Luke Perkins' bot (named mimicbot) won the first place in the competition. His paper is also accepted in the conference. Congratulations to Luke for a job well done. Here are the results of Tournament 3 of the AIIDE 2010 Starcraft AI Competition: Results As you can see, it was won by AI bot, Mimic Bot written by Luke Perkins, senior in CS and RCOS particpant: Mimicbot Luke has also uploaded the source code of Mimic Bot under GPLv2 here: Code On a related note, a 6-page paper Luke has written on the terrain analysis choke point detection algorithm used in the BWTA project ( Terrain Analysis ) has been accepted by the AIIDE 2010 conference for publication and a poster presentation: Paper Details Congratulations to

Luke Perkins

---

Dr. Luis Ibanez Blog post about his open source teaching experience appeared in this blog. Congratulations to

Dr. Ibanez

---

---

It is great to see some one is writing seedkit library for seed dveloped by Rob Carr and Tim Horton Congratulations to

Rob Carr, Tim Horton

---


Graylin participating in the NY State Open Government Congratulations to

Graylin Kim

---

Led by Nate Stedman with assistance from Rob Carr have released Ease 0.3 (Presentation software for Gnome Desktop) and it is is in located here Congratulations

Nate Stedman , Rob Carr

---

Graylin Kim Is attending Capitol Camp (an effort for making making the State politics transparent and make the underlying software open source.)

---

John Britton RCOS Alumni gave a talk at the NY Tech group meeting to a group of 850 attendees with a live demo. His talk can be seen here. His P2PU (Peer to Peer University) his RCOS project seems to have taken off big. It has been written up in various news papers all over the world. .

---

Stephen Trombetti and James McMillan RCOS Summer 2010 participants will be presenting their HFOSS work on Sahana Eden in Wesleyan University. Please see for further details.

Congratulations to Steve and Jim

---

Dr.Luis Ibanez who taught Open Source Software Course at RPI (Falls of 2007, 2008 and 2009) presented two talks on his experiences on educating future engineers at OSCON 10 . Further Details

Congratulations to Luis

---

---

Down Loads Down loads - Software developed by RCOS students have been down loaded numerous times. Recent noteworthy down loads include Concerto and BWAPI software. Congratulations to Luke Perkins and Brain Michalski

---

HFOSS efforts at RPI through RCOS has been set up and it is a member of HFOSS chapters

---

Glide (a RCOS project of Rob Carr ) has ben written in LWN news. A blurb fron that LWN site

Good presentations, and good presenters, are not a result of good software. 
But bad presentation software can make creating a good presentation much 
more challenging. Rather than complaining about poor presentation-ware, 
Robert Carr and Amy Wieliczka have been working on Glide: a Clutter/GTK-based 
presentation application to fill the gap.

Sponsored by the Rensselaer Center for Open Source Software, Glide is a 
GNOME presentation program in its earliest stages. Glide is licensed 
under the GPLv3, is written in Vala and C, and attempts to do away with 
some of the baggage of standard presentation applications.

Congratulations to Rob Carr
---
Ease (a RCOS project of
Nate Stedman
has been accepted as a GNOME Google Summer of Code project (Summer of 2010), proposed by Stphane Maniaci, a student at Universite Montpellier 2, France. As Ease is still at an early point, instead of improving a specific feature, Stephane and Nate are working together to finish all necessary features for an initial release.
Congratulations to Nate
---
Sean Austin, Griffin Milsap and Diana Mazzola
are happy to update of the
droidViz
success. Right now, thereare about 1800 downloads and gaining everyday. The application has gotten some nice reviews (some bad ones too!) but the trio are working on really making it robust and into a live wallpaper for 2.1+ phones.
Link to Details
---
Mukkai S. Krishnamoorthy attended the HFOSS Workshop for Faculty held at Trinity College Hartford, CT, May 18-20, 2010.
---
Josh Elser has been inducted Rensselaer Polytechnic Institute Into Phalanx Honor Society. Please see Rensselaer Polytechnic Institute Inducts New Members Into Phalanx Honor Society for further details. Congratulations
Josh Elser
---
John McMaster Our local embedded system expert has been writing a blog about reverse engineering(RE)the Integrated Circuits(IC). His IC RE blog can be found at: http://uvicrec.blogspot.com/ It has actually been one of the most popular blogs online. Several people have contacted him about it and there are a handful of followers already on it. Congratulations
John McMaster
---
Today (4/21/2010) there was an elevator pitch competition and three of the finalists group (among a total of fifteen) are from RCOS. The three RCOS groups are:
VOTEBOX ballot system Sara Sass, Joseph Dougherty, Brian Heller,Matthew Heffler (all sophomores)
Conservation Marketplace Eric Allen 10 (senior)
Interactive Tutoring Tool Anna Cyganowski 11 (junior)
Congratulations to all of them. It is great that Eric Allen won the second place award. One of the judges singled out Eric for his brilliant presentation. Congratulations
Eric Allen
---
Congratulations to Allen Lavoie and past RCOS participant David Pizzuto for getting Google Summer Internship for two years in a row. Congratulations
Allen Lavoie, David Pizzuto
---
Congratulations to Devin Ross (RCOS's IPhone expert) for having his open source library mentioned in a book to be published in May.(Please see the attached sheet) It is also great to have such positive reviews of his open source library. The page is here. Congratulations
Devin Ross!
---
Five current RCOS students will be presenting in RPI's first Undergraduate Symposium They are
Eric Allen
Ben Boeckel, Rob Escriva and Joe Werther
Allen lavoie
John McMaster
Devin Ross.
The presentations/posters are on April 27th from 2:00 pm to 6:00 pm in DCC (Posters) and CII (Presentations). Congratulations and Good Luck to these students. Besides these five, past RCOS student Alex Radocea and RPISEC club member Andrew Zonenberg will also be presenting on the research symposium. These seven students are among a select group of undergraduate student (RPI) presenters on the symposium.
---
Rocs really Rocks!. ROCS (Rensselaer Open Source Course Scheduler) (long live anagrams!) Done jointly with UPE and RCOS is finally out - Thanks to extreme co-operation of Registrar and dotCIO. It has been used from Spring 2010 for course scheduling during registration time. From what I hear from registrar's office is nothing but praise. Great job by the team headed by Evan Patton (started as Spring 09 RCOS project). This is a really crowning achievement for RCOS as it is a community and co-operative effort by many units and all came through.
---
Thanks to our local IPhone Wiz Devin Ross Digg for iPhone is finally out on the App Store (3/26/2010). Its already climbed to #19 on the global top downloaded apps chart after day 1. IPhone Wiz Devin Ross will probably go #1 overall sometime soon. The app is getting great reviews (which doesn't happen often; see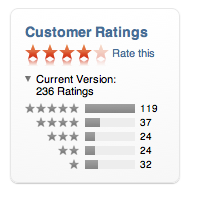 screenshot).
---
Security Competition at RIT (3/20/2010)
Ten teams of students were tasked with managing a network and maintaining service levels. An eleventh team consisting of industry professionals and RIT adjuncts was tasked with attacking
Team Knurds 1:
Alex Radocea (RCOS participant in Fall 09, Spring 09)
Ben Boeckel (RCOS participant Fall 09, Spring 10)
Joe Werther, (RCOS participant Fall 09, Spring 10)
Robert Escriva (RCOS participant Spring 09, Summer '09, Fall 09, Spring 10, Mentor)
Team Knurds 2:
Adam Comella
Andrew Zonenberg
Jay Smith
Ryan Govostes (RCOS participant Spring '09, Fall '09)
Shawn Denbow
Knurds 1 took first, with Knurds 2 coming in second.
An RIT team took 3rd. More information will be published on our blogs and on Sparsa's website. Congratulations to all.
---
---
Allen Lavoie did a poster presentation on his Automatic Paper Classification in Computer Science Department on 3/19/2010. Allen's preliminary results are turning a few heads. Allen did a blog post here where you can see his poster.
---
Joe, Matt and Brian's votebox has reached the finals of the RPI elevator Pitch competition. I am very glad to see Anna has also reached the finals of the competition for her Interactive Tutorial work . Eric Allen has reached the finals for his project on Conservation Marktplace Three out of fifteen finalists is quite good as rcos students represent much less than 20 percentage of undergraduate students at RPI/
---


Devin Ross was tipped yesterday (3/15/2010) by Apple that they are going to feature Attic (His music IPhone app) in the Itunes store. Lo and behold, you can see from the image above that Apple did indeed feature Devin's app in the front center of the store (3/16/2010)
Hats off to IPhone Guru Devin.
---
Mukkai Krishnamoorthy was an invited discussant on the HFOSS panel discussion during the ACM SIGCSE conference, Milwaukee on March 10, 2010 .
---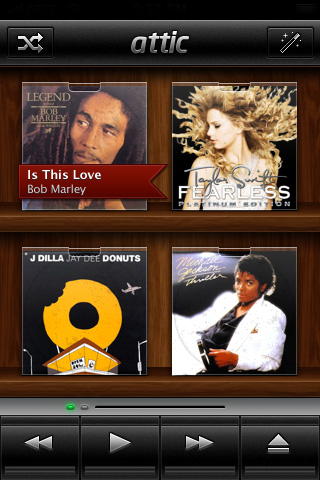 Attic Devin ross's IPhone app is number 5 on top music apps on iTunes ahead of popular apps like Ocarina and GuitarToolkit. Please take a look at the screen shot of the rankings taken on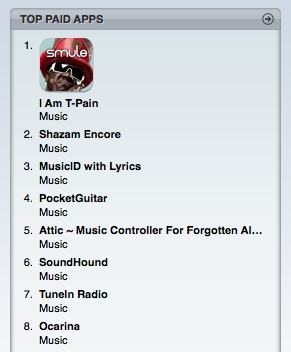 Rankings (3/6/2010).
It is worthwhile mentioning that Devin makes use of his Library extensively.
Hats to our IPhone Guru Devin
---
---
The Android project created by Diana Mazzola, Sean Austin, studidroid , has approximately 2,000 downloads on the Android Market. The open source code can be found here . Also, Sean was just chosen as one of a group of top android developers who are to be part of the Device Seeding Program which rewards the top developers with the newest Android devices. They are distributing either a Droid or Nexus One for free to Sean because of his for-profit app, BatteryTime Lite. The free version has roughly 100,000 downloads while the paid one roughly 1,200.
Congratulations to Sean and Diana
..
---
Seed Developed by Rob Carr, Matt Arsenault and Tim Horton has been taken on by other developers most notably Alan Knowles. In their Git log, one can see alan (Alan Knowles) committing a bunch: Developers, Bug Fixers Robb and Matt and Tim, a bunch of random GNOME people) Mailing list for Seed Feb Mailing List Archive Also, lots of bugs filed by other people (and mostly fixed by Rob, Tim and Matt): Bug Fixes by Rob, Tim and Matt
Great Job by Rob, Tim and Matt
---
Yongqian Li , a Fall 2008 project participant of RCOS, created a Firefox extension called FastestFox (https://addons.mozilla.org/en-US/firefox/addon/9825). It is quite popular, with several million users. It has also been covered in the media, with reviews on CNet, Lifehacker, and other, smaller, blogs. It is also profitable, mostly from ads, to Li (who is in the Bay area on leave from RPI) Press coverage:
Congratulation to Li (whose 2008 Fall project was about mining wikipedia)
---
Eric Allen attended RubyConf and JRubyConf in November, 2009. His tracks software have been downloaded hundreds if not more. Eric's dashboard will keep us all honest and motivate us to work hard(er).
---
Rob Escriva and Ben Boeckel attended FUDCon (Fedrora Users and Developers Conference) in Toronoto, Canada, in Decmber, 2009. They also presented their ppaper on CHASM (Cryptographic Hash Algorithm Secured Mirroring solution) their mirroring software.
---
RPISEC (with the members inluding Alex Radocea and Ryan Govostes) scored 18th out of 56 teams (world wide). For details please see International Capture the Flag Competition.
---
RPISEC, an undergraduate Security Club at RPI (mainly CS, ECSYS students) participated inthe annual NYU-Poly (worldwide security contest). Many are also members of RCOS (Rensselaer Open Source Software Center). Congratulations to RPISEC for a job very well done. In quiz part of the tournament, they came in first and second csaw And the Winners Are

| | | |
| --- | --- | --- |
| Place | Team | University/Institute |
| First | Robert Escriva and Jay Smith, | Rensselear Polytechnic Institute |
| Second | Adam Camella and Andrew Zonenberg, | Rensselear Polytechnic Institute |


In Capture the Flag part of the competition, they came in second CTF And the Winners Are
| | | | |
| --- | --- | --- | --- |
| Position/Rank | Team | School | Team Members |
| 1st Place | ppop | Carnegie Mellon University | Brian Pak, Andrew Wesie, David Kohlbrenner, Tyler Nighswander |
| 2nd Place | RPISEC | Rensselaer Polytechnic Institute | Alexandru Radocea, Ryan Govostes, Adam Comella, Andrew Zonenberg |
---
Matt Arsenault and Tim Horton attended GNOME Boston Developer Summit in October. Matt, Tim and Rob Carr are involved in GNOME Development activities for past many years and will continue to be involved in future
---
Joseph Dougherty and Matthew Heffler work on Votebox made it to made it reddit Kudos to Joe and Maat.
---
It is noteworthy that Alex Radocea (a rising junior) won a commendable fourth position (tied) in a worldwide security contest by Google. (see Google news release. ). Alex worked on a security project with RCOS in Spring of 2009.
---
Seed (RCOS project in Fall of 2009 by Rob Carr, Tim Horton, Mathew Arsenault and Nate Steadman) is getting noteworthy mention in the press and it is being shipped with next Gnome release.
---
iRPI developed by Devin Ross and Album Shuffle by Devin Ross As of end of August 2009, iRPI had 449 downloads and Album Shuffle had 2722 downloads.
---
Vault Developed by Devin Ross and Amit Kumar As of end of August 2009, Vault had 14,702 downloads.
---
Decription and write up of digital signage systems including Concerto Developed By Brain Zaik August Fiteku and Web Tech Group
---
Off Campus housing for RPI students - can easily be adapted to other universities - developed by Joe Chrzanowski.
---
Semantic RPI map developed by Jin Guang Zheng working with tetherless constellation group at RPI.
---
RPI Planner Developed by by a group headed by Eric Allen
---
Mirror website (of various linux flavors) for RPI students/faculty/staff mainitained by Rob Escriva.
---
A number of students (past participants of RCOS)participated in google summer of code.
---
Papers published by RCOS supported students
---
Amit Kumar, Josh Elser (on their OLPC XO Geography game) and John Britton (on Peer to Peer University) participated on Education without Borders 2009 conference..

---

John Britton was invited speaker at Education without Broders 2008 conference.

---

G. Nagy, B. Clifford, A. Berg, G. Saunders, E. Barney Smith, D. Lopresti Document photography in vitro Third International Workshop on Camera-Based Document Analysis (CDBAR 2009, Barcelona, July 25, 2009.

---

G.Nagy, B.Clifford, A.Berg, G.Saunders, D.Lopresti, Elisa Barney Smith, Camera-based Ballot Counter International Conference on Document Imaging and Recognition (ICDARW2009), Barcelona, July 26-29, 2009.

---

R. Padmanabhan, R. C. Jandhyala, M. Krishnamoorthy, G. Nagy, S. Seth, W. Silversmith How many different kinds of tables are there? Eighth IAPR International Workshop on Graphics Recognition (GREC 2009) La Rochelle, July 22-23, 2009. Also appear in GREC 2009, LNCS 6020 proceedings, 2010.

---

R. C. Jandhyala, R. Padmanabhan, M. Krishnamoorthy, G. Nagy, S. Seth, W. Silversmith From tessellations to table interpretation, 8th International Conference on Mathematical Knowledge Management, MKM 2009 Grand Bend, Ontario, 10-12 July 2009.

---

George Nagy, Raghav Padmanabhan, Ramana C. Jandhyala William Silversmith, and Mukkai S. Krishnamoorthy. Table Metadata: Headers, Augmentations and Aggregates DAS 10 Short Paper, Cambridge, MA 2010.

---

Eric Allen, Comparison of Object-oriented and Functional Programming for Code Generation, Technical Report No. 10-04, Computer Science Department, Rensselaer Polytechnic Institute, Troy, NY 12180

---

Allen Lavoie and M. krishnamoorthy, Algorithmic Detection of Computer Generated Text, Technical Report No. 10-07, Computer Science Department, Rensselaer Polytechnic Institute, Troy, NY 12180

---

Luke Perkins has written a paper on the terrain analysis choke point detection algorithm used in the BWTA project ( Terrain Analysis ) has been accepted by the AIIDE 2010 conference for publication and a poster presentation: Paper Details Congratulations to

Luke Perkins